In the midst of the ongoing conflict in Gaza, which escalated over the weekend, an improbable and heartwarming story is unfolding. In a leap of faith, a couple living within the volatile region is putting their future into the hands of people they've never even met—all in the name of love.
Abd El-Hakim Zughbor and his fiancée, Falastin Al-Tananiare, had been dating for seven years, but were unable to wed because of financial constraints. Having been together for such a long time, they felt immense pressure from relatives, and the society, who wished to see them in wedlock.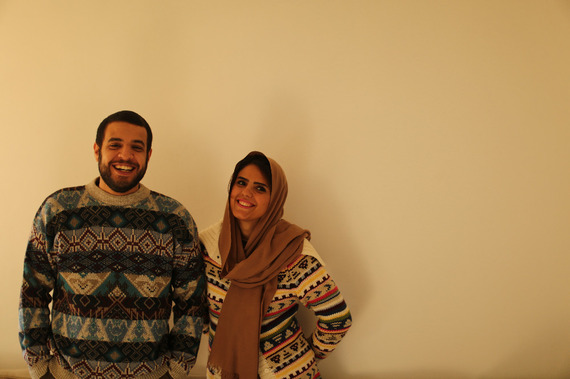 "My name is Hakim and I am in love. I want to marry the woman of my dreams, Falastin, but in order to do so I need your help," Hakim said via the online fundraising website GoFundMe. "We have wanted to get married for some time but are unable to do so because we simply cannot afford to."
Within the Gaza Strip, the journey to walk the aisle is particularly difficult. This is because the region's culture expects grooms to not only cover the entirety of the wedding expenses, but also have a furnished home before they may be betrothed. A housing shortage caused by a combination of Israel's strict cement import policies and the infrastructure loss in Gaza during Operation Protective Edge in 2014 has made it increasingly difficult for young couples to find an affordable home in the region.
Hakim and Falastin met while volunteering for NGO's, and quickly developed a connection through their mutual passion for writing. Over the span of their relationship, they found it difficult to get ahead financially in an economy that iscrumpling under the weight of blockades, war, and poor governance. Hakim and Falastin are university educated in architecture and computer engineering, respectively, but have been unable to find work in Gaza's shrinking job market.
"As an architect, I was hoping to be involved in the reconstruction of Gaza following last year's attack on the Strip which left more than 100,000 buildings and homes damaged or destroyed. I was also hoping to build houses for newlyweds, including my own house," Hakim said. "But an architect requires building materials. With the continued siege on Gaza, building materials have not made it to Gaza and only a mere small number of homes have since been rebuilt."
A month ago, Hakim and his beloved Falastin agreed they could wait no longer. With the odds stacked against them, Hakim devised an innovative and optimistic plan to sidestep the financial obstacles that had kept them unwed for so long. He opened up a fundraising campaign via the crowdfunding website GoFundMe, detailing his plight to the internet community.
"We are now part of the statistics of the Gaza Strip with the highest youth unemployment in the Middle East," Hakim said. "But we have hope. We do not want to leave Gaza; we want to help reconstruct it and we want to build a future for us and for our nation."
"We hope that you will help us with our new life together."
Once the campaign was online, Hakim managed to take out a short-term loan that gave him enough money to rent a 100m2 home and pay for a modest wedding. After 7 years, he and Falastin were finally able to call each other husband and wife last week.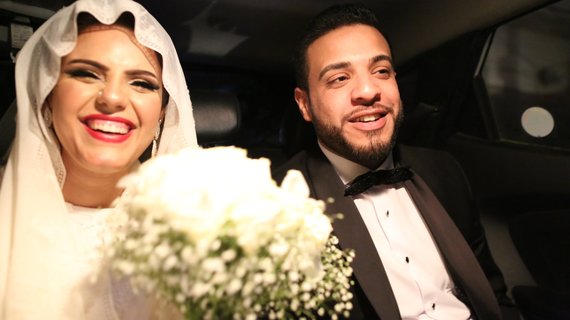 Knowing he could never pay off the loan by himself, Hakim set his GoFundMe campaign goal for $9,000, the amount of his debt. Essentially, he is banking on the generosity of complete strangers to spare him from financial disaster as he begins his new life with Falastin.
While not all of Hakim's family agreed with his endeavor, they did not try to stop him from taking this risk to marry the woman he loves. "Some of my family members were supportive, and others weren't. Those opposing thought of our fundraising campaign as begging, degrading and humiliating. But, for instance, Falastin's grandparents encouraged us, and said that in love, there's no shame."
Hakim was surprised to find that while a majority of people online have been supportive of his cause, those who did not approve of his campaign were mostly younger people from his local community. While it makes sense for a conservative Gaza community to be weary of an unorthodox approach to an honored tradition, Hakim points out that willingness to help those in need is one of the core values of humanity, and of any religion as well.
Because of local customs, Hakim has seen a majority of support for his campaign coming from donors and publications in the west. He said he is thankful for everyone who has helped, pushing them past the halfway point for their campaign goal.
Despite their outstanding debt, Falastin and Hakim have no regrets.
"I would say to others who cannot marry the one they love, do not be afraid to ask for help," he said. "Do not be afraid to do anything for love."
You can see more of Hakim and Falastin's story, or even contribute to helping them start a new life together, by visiting their crowdfunding page here.